YOU CAN WIN by Shiv Khera | BOOK RVIEW
"You can win" is a great book by author Shiv Khera an Indian writer. Here we will give review of the book. It is recommended to read the book review before you buy the book. Posted by: Blurbgeek
In simple words success is:
"Accomplishment of aims and desired vision OR getting some social status , gained fame or becoming PROSPEROUS"
Some people thought that success is the other name of destination they thought what you dreamed if u achieve you became successful but this is the definition of success only for those who want to became a moneybag
According to my ideology " success is a journey not a destination. It is the journey of your determination. it is the journey of your will power. It is the journey of your self-belief , in short success is the journey of your dream until it realize into reality.
The size of your success is measured by the strength of your desire more precisely burning desire. Success doesn't mean the absence of failure in fact failure gives you an opportunity to learn, it works as a flame for your burning desire as Shiv khera rightly quoted,
" Success is 90% failure"

Shiv Khera | Writer of "You Can Win"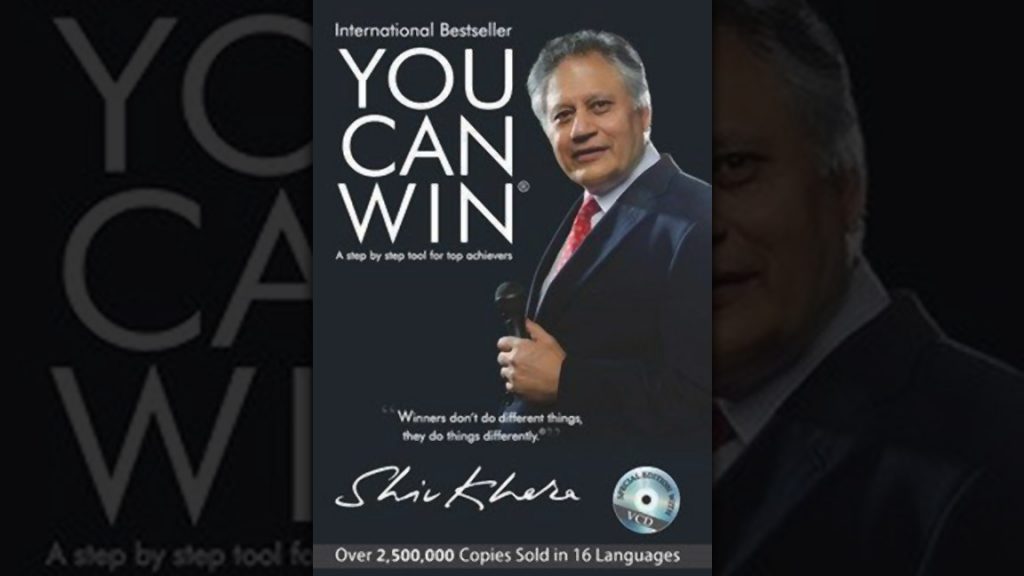 Right Attitude of Success | "You Can Win Book"
The book " you can win" by Shiv khera gives you a right attitude towards success ,this book changed my life I learned the real meaning of success from it, it gives you a guidance towards your goal in other words It provides you a first step towards dream/ goal. The most impressive thing in this book is that it cover all the ingredients of success. The key words of book " You can Win" are:
Importance of attitude
Success
Motivation
Self-esteem
Interpersonal skills
Subconscious mind and habits
Goal setting
Values and vision
All those not only the key words of the book but also an outlook on the life of successful personalities all over the world. Read the complete book review to understand all of them. If you go through the life of the successful personalities like,
You will find all these ingredients in the recipe of their success. As khera said,
" Winners do not do different things ; they do things differently"

Shiv Khera | Writer of "You Can Win"
This quote is the central point of the book it means that success doesn't mean to apply new strategies or do something new in-fact it matters the way we do, it matters how we real with things. Choose a strategy but apply it in a different way in your own purely your own way. Do not copy others.
It is just like, Introducing a new dish within the same time and with truly the same ingredients providing to all the competitors in a competition. To be a winner, first you should accept your self that what you are, with what you have and where you are. You must have full confidence on your abilities, you must thirst for learning, you must have curiosity to discover things you must have boarder vision on life.
A Story Worth Mentioning
I would like to share my favorite story in the book review of " you can win", * you must have thirst for learning*
An eagle's egg was placed in the nest of prairie chicken. The egg hatched and a little eagle grew up thinking it was a prairie chicken. The eagle did what the prairie chicken did. It scratched in the dirt of seeds.it clucked and cackled. It never flew more then a few feet because that it what the prairie chicken did. One day he saw an eagle flying gracefully and majestically in the open sky. He asked the prairie chicken " what is that beautiful bird"??
The chicken replied,
" That is an eagle. He is an outstanding bird, but you can't fly like him because you are just a prairie chicken" so the eagle never gave it a second thought, believing that to be true. He lived the life of and died a prairie chicken depriving himself of his heritage just because of lack of vision.
What a waste!! He was born to win but was conditioned to lose. The same thing is true for most people the unfortunate part of life Oliver Wandall Holmes said,
" most people go to their graves, with music still in them" .

Oliver Wandall Holmes
Key Rules of Success | "You Can Win Book"
We didn't achieve excellent because we have lack of vision. If you want to be successful we must experience the failure to enjoy the gravy of success you have to bear the warmth of failure. It you want to fly gracefully like an eagle you have to learn the ways of eagle. The Writer mentioned some action steps to be a winner those are,
Be a good finder
Make a habit of Doing it now
Develop an attitude of gratitude
Get into a continuous education program
Build positive self-esteem
Stay away from negative influence
Learn to like the things that need to be done
Start your day with positive
These key rules are simple enough to change our attitude towards our routine. To become a winner is not a difficult thing the all you have to be done is to create a positive attitude in your life.. we have to start learn from the nature duck keep paddling restlessly underneath but appears smooth and calm on top.. this is the secret of success. Keep on working calmly unless you succeed,
I would like to share Another story from the book in review that will make you realize many opportunities are lost just because of indecision,
Once someone asked a farmer if he had planted wheat for the season?? The farmer replied "No, I was afraid it wouldn't rain". Then the man asked " Did you planted corn"??The farmer replied " I was afraid of insects eating one corn". Then the man asked " what did you plant"?? The farmer said ," nothing, I played it safe".
Moral is that, we lost many opportunities because of our foolishness. We have to take opportunity, we have to take the risk if we want to succeed , we have to plough or saw the seed of we want to enjoy the delicious fruit. The road of success is always under construction of your determination.
Some Quotes From "You Can Win Book"
Some motivational quotes from the book "You can win" that will shake your consciousness are,
"An uneducated thief may steal good things from the train, but an educated one may steal the entire train. We need to compete for knowledge and wisdom not for grades"
"Motivation is like fire, unless you Keep adding fuel to it, it dies. Your fuel is your belief in your inner values"
"Success doesn't mean an absence of problem, it is overcoming problems"
" success is not measured how high we go up in life,but how many times we bounce back when we fall down"
" The greatest gift the human have is the ability to think"
People choose to ignore the spirit and derive the meaning that is convenient to them Such people have tied this phrase to selfishness and I am sure that was not intent. The always forgot that we don't live in isolation what you do effects me and what I do effects you we are connected. We have to realize we are sharing this planet we must learn to behave responsibly. There are two kinds of people in this world taker and givers takers eat well givers sleep well. Givers have high esteem and positive attitude they serve society.
SOME WORDS ABOUT THE BOOK
This book "you can win" step by step tool for achievers was originally published in 1998.
This book is a basic step towards your success it is full to wisdom , life stories of successful personalities, example, experiences and it helps to dispel your confusion and clarify your attitude towards success. It creates a link between failure and success and gives you a compression between winners and losers.
You will be surprised to know that Losers in academic life became the most successful persons in their professional life. By just in believing on their will power and determination. I would again say that,
" Winner do not do different things, they do things differently"
SOME WORDS ABOUT THE AUTHOR
Shiv khera is an Indian author and a motivational speaker he is also an educator, business consultant and a successful entrepreneur. He is an author of 14 books but his international bestseller book is " you can win,"
"You Can Win" has sold 3.5 million copies in 21 different languages. In the Book, a saying of Winston Churchill is quoted:
Success is not final ; failure is not fetal,it is the courage to continue that counts

Winston Churchill
It explains the supreme quality of a winner success isn't always greatness,it is about consistency. Any fact we are facing is not as important as our attitude towards it, for that determines our success or failure.
CENTRAL IDEA
The main idea of the book is that,
A winner is someone who accept a win or a loss with the same temperment. For him/ her it doesn't matter he / she win or loss the thing that matter is what they learn from it or what behavior and strategy they adopt. A winner is Never alone in Winning a game,its rather the people who stand by her or make him a winner, its his devotion who make him winner.
Winner are those who came forward and embrace the failure in manly manner. It meany strategy and planning makes a man winner or champion everyone works hard but winners work strategically they prefer smart work they overcome their weaknesses they are compassionate and believe in "Do or Do not there is not to try"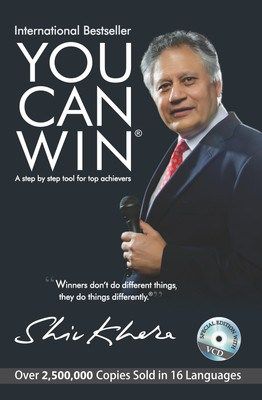 Review of "You Can Win" book ends
I would like to complete this Review of Book "You Can Win" with the words of Success,
"Behind every successful person there's a lot of unsuccessful year, so every success is an admission ticket to a set of new decisions".