Saree Indian Traditional Dress and ethnic attire for women of south Asian countries especially in India. It's a decent dressing which contain essentially a long piece of un-stitched fabric that drape around the body in various styles, varying from 5 to 9 meter long and 600 to 1200 millimeters in breadth typically wrapped around waist and worn usually with a stylist bodice known as choli or kurti and a long petticoat.
Checkout our article on Western Fashion Trends.
Historical Background:
Word sari derived from word saatikaa mentioned in ancient Hindi literature. Basically it evolved from three-piece ensemble comprising on Antriya, the lower garment uttariya and a veil worn over the shoulder and a chest band as poshak. Cotton was first cultivated and woven in India subcontinent around 5 millennia.
Natural Dyes Used For Saree
Dyes used during this period was Indigo, Turmeric, Tac, Res madder.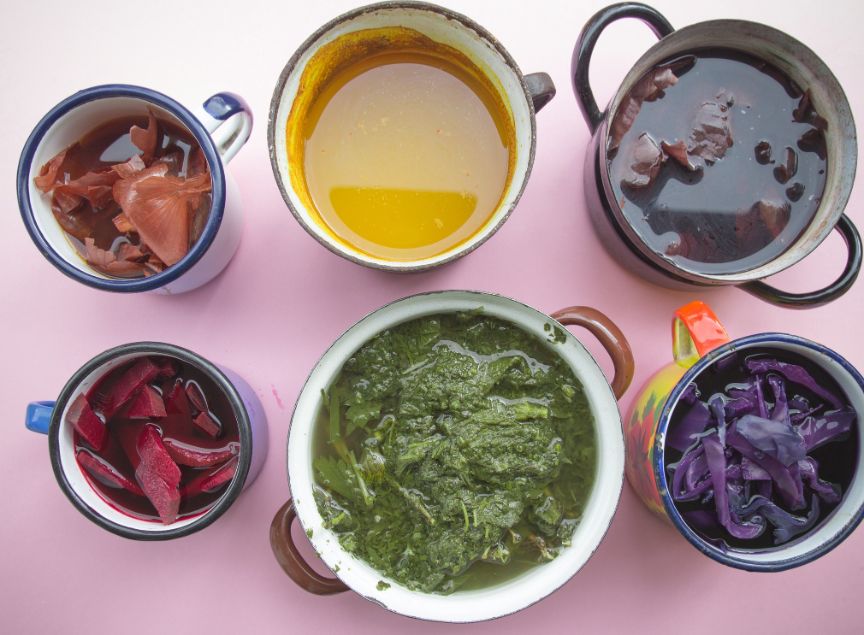 The Word Saree
The word sari is described in Sanskrit which means "Strip of cloth". Buddhist simply termed as female "bodice". choli evolved from ancient "Stanapatta".
Fabrics Used For Sarees
There are four basic type of fabric for sari used in India,
Fancy Fabric For Saree
It is one of the most expensive and important fabric, extremely famous for its high demand, greatly supported by designers. It comes in number of mili-made fabric like georgette and chiffon etc.
Cotton Fabric For Saree
Cotton is the most preferable fabric in India because it is light weighted and easy to carry also for its airiness. This fabric for sari not only liked in India but also in South Asia.
Silk Fabric For Saree
One of the most important and elegant fabric for sari actually no occasion of ladies complete without silk Saree. It may be a heavy Kanjeevaram silk or may be light weighted Uppada. Foe glamorous look silk sari is very important. Here I mention some famous silk Sarees,
Tussar silk Saree
Banarasi silk Saree
Mysore silk Saree
Bhagalpuri silk Saree
Net Fabric For Saree
This fabric not only famous but also gorgeous. Different type of net is used by designers to give it attractive look in various way. It is usually worn with a bodice having heavy embroidery. Perfect fabric for wedding occasions.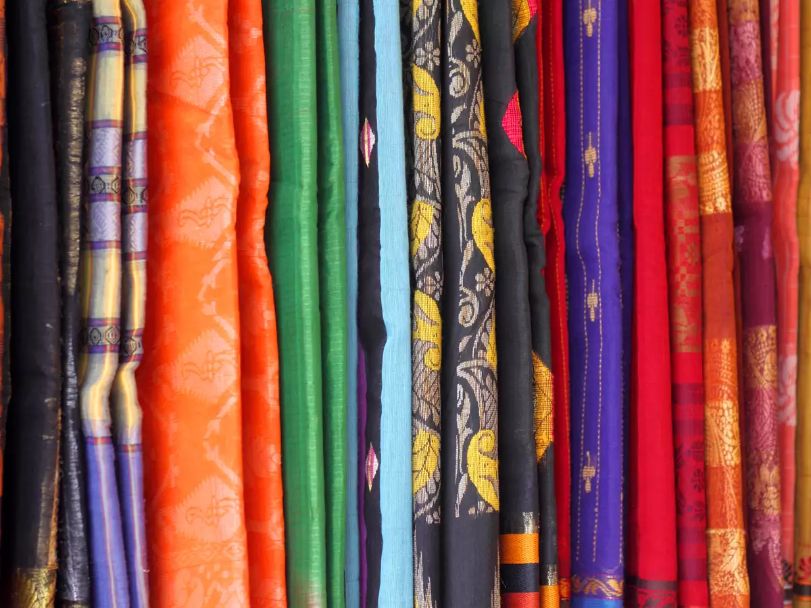 Ways To Drape Saree
There are more than 80 styles to drape saree,
Belt style
Dhotti style
Neck drape style
Mumtaz style
Traditional style
Mermaid style
Pant style
Lehenga style
Front pallu dropping style
Pre-stitched gown style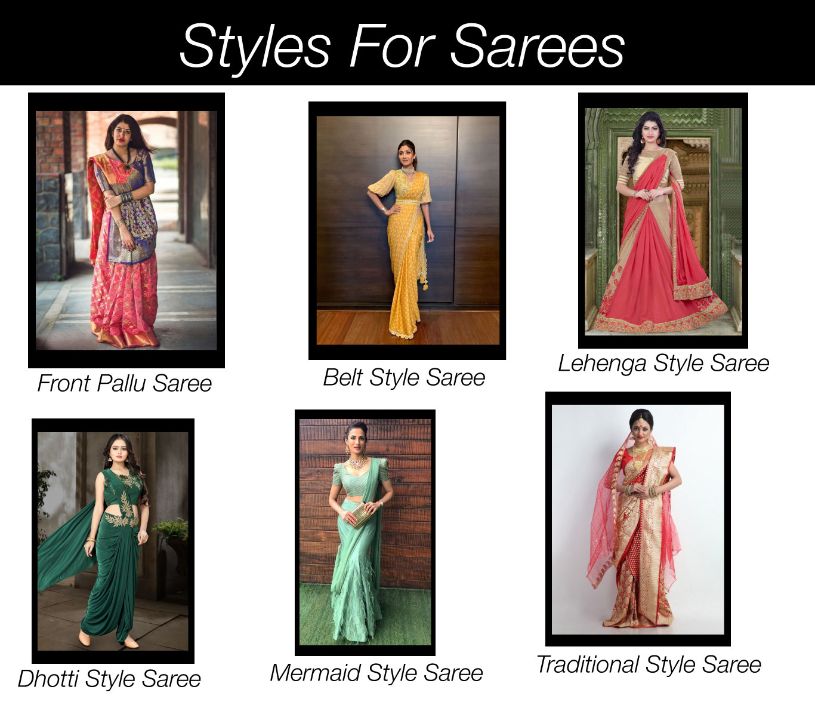 Belt Style
Drape your saree in the normal way and just add a belt that cinches your pallu at the waist act as the waist band. You can even use a "Kamarbandh" for the traditional and classy look, use off shoulder blouse with traditional bun to complete the look.
Dhotti Style
Try out this outbreak look while you are attending a party with family. All you have to do is to wear a legging instead of petticoat for better draping purpose. This style is a little tricky but glamorous. Use a bindi on forehead and a band of flowers on stylish Jura to complete this look.
Neck Drape Style
To carry this style what you have to do is to wrap the pallu pf your saree around the neck like a scarf. You will have to take the length of your pallu longer than normal. Loosely curl your hair to complete this look.
Mumtaz Style
This style to wear sari is very cultural as well as traditional. The secret to carry this style lies in the layering of the sari. If you are going for this royal look you have to made Mumtaz jahan 's famous hairstyle. Use short choli for perfect look.
Mermaid Style
To achieve this outstanding look spread the lower part of the plates this in return look like the tail of mermaid. The drape might look like a lot of work, it only requires a few tricks and some extra plates. To complete this look curl your hairs and fall them on one side of your shoulder.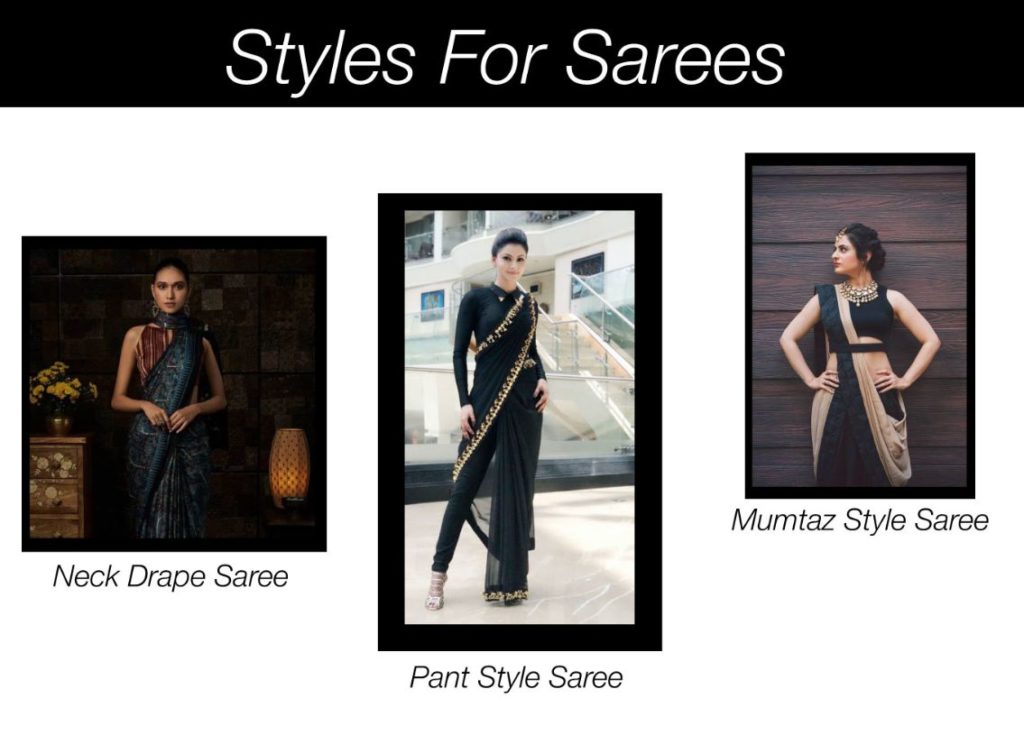 Pant Style
This style is very comfortable and easy to carry. Functional and super chic. It's a very different and glamorous style. Use a head dress(same as used by Turkish women) to complete this look.
Lehanga Style
Believe me this style is not only pretty but also perfect for wedding season. So you don't need to buy expensive lehanga. What you just have to keep plating the whole 6 to 9 yards, off course some left for pallu. To complete this look made a loose bun with Kashmiri, jhumka.
Front Pallu Style
This style give you a trendy look nowadays, its also very tricky. Don't carry the pallu of your sari on left shoulder traditionally instead carry it from back side to your right should.
Sareei Indian Traditional Dress is very popular not only in India but among many Asians Countries, It is considered as a Beautiful an Elegant wear. Also, Checkout our article on Strange Fashions Around The World.