This is the 21st century in which kids are more conscious about their dresses than adults. They are demanding more decent and fashionable dresses so; they might look well-dressed up and sophisticated. Such mentality builds fashion sense and fashion consciousness in people from their childhood. In this article, we would like to share amazing ideas to dress up your kids. Surely these dresses are super cute, fascinating, and made of attractive colors. Now, you don't need to worry about How To Dress Up Your Kids.
Dresses For Baby Girls :
Halter-neck dress with high heels
Sleeveless frocks with poncho
Short shirt with jeans with sneakers shoes
Jumpsuits
Frocks with short jacket with high heel shoes
Kids gown made of silk with heels
Polka dotted dress with white baby shoes
Princess ball gown with hair crown
Dungarees
Unicorn dress in ponytail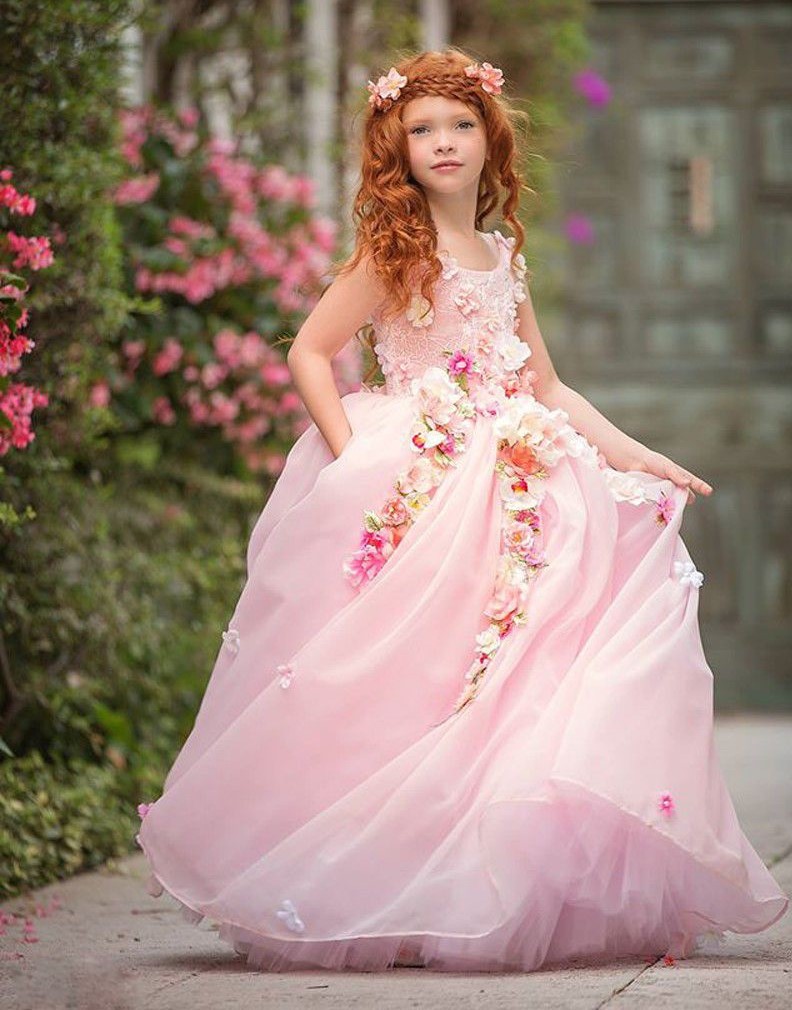 Halter Neck Dress In High Heels:
This dress is perfect party wear for baby girls. This dress in purple and whits color with high heels is in the trend, Halter neck dress with the embellished bodice and organza white skirt is a perfect combo for evening occasions.
Sleeveless Frock With Poncho:
This is a simple yet gracefully designed dress for kids. Kids would love wearing it, a sleeveless dress in satin or silk with lace embellished the poncho give a fantastic look. This dress with baby shoes and a high ponytail is a perfect weary for your kid in a social gathering.
Short Shirt With Jeans:
As our kids are mostly impressed by western dressing styles so this dress is designed according to this demand; kids would feel happy to wear short shirts with loose pants. Dress up your baby girls with this dress having a hairband on their head.
Open Double Shirt with Duppatta:
This dress is a real picture of Pak-Indo culture This would be a worthy addition of your kid's wardrobe. Sky blue open double shirt with one side puffy hairstyle is the best dressing for kids in wedding ceremonies.
Frocks With Short Jackets:
This is the most previous design for kids wearing the frock of any kind of fabric with the short embellished jacket also with beautifully embellished colorful Khussa having twisted hairs from the forehead, tie with a pin will give a thoroughly traditional look to your kid.
Polka Dotted Dress:
Best weary outfit for kids in summer, this would be attractive in bright colors. Pair a polka-dotted dress with contrasting silk or bottom. This dressing will complete with summer shoes and with the hairband of Mouf color. It can be used with or without sleeves whatever you like.
Princess Ball Gown:
Princess ball gown is no doubt an ultimate fantasy of baby girls. Choose a ball gown with an abundance of frills and laces it will give your kid a feeling of decadence. Beautifully made a high ponytail having a baby cut on the forehead with a crown on your head and having heels on your feet, not only the best choice but also makes your kid feel like a fairy tale.
Half Kurti With Dhoti Shalwar:
This dressing is a fashion of new age, it may be trendy yet traditional and looks charming in tiny tots. Blue colored jeans and the shirt with yellow dotted shalwar is mostly like the combination in this dressing. It is not only comfortable but also perfect for both casual and formal weary.
Dungarees:
It is a perfect combo of style and elegance, ultimately comfortable for kids available in types of denim. Pair this with a bottom, wear with a T-shirt, or maybe a casual shirt. This is a UNISEX weary nothing look cuter on children than to dungarees. You can surely add this dressing to the wardrobe of your kids available in different colors.
Dresses For Baby Boys:
Not only baby girls also baby boys like to dress up in specific style they like specific clothing, color and trends different clothing brands introduced different styles for kids,
Sweat jacket with shoes
Turtleneck shirt with tight jeans
Front open shirt with pant
Trendy jacket, shirt with bow ties
Full sleeves shirt with vest and formal tie
Mock coat T-shirt and corduroy pants
Tuxedo styles dress in casual shoes
Dressing up kids is an art in itself choosing a dress for kids looks like fun. While dressing up your kid make sure it is comfortable as well as according to the climate of your areas whenever you adopt dress for your kid, keep in mind the nature of ever-changing fashion. While dressing up your kids according to the demand of occasions, Keep in mind below mentioned dresses.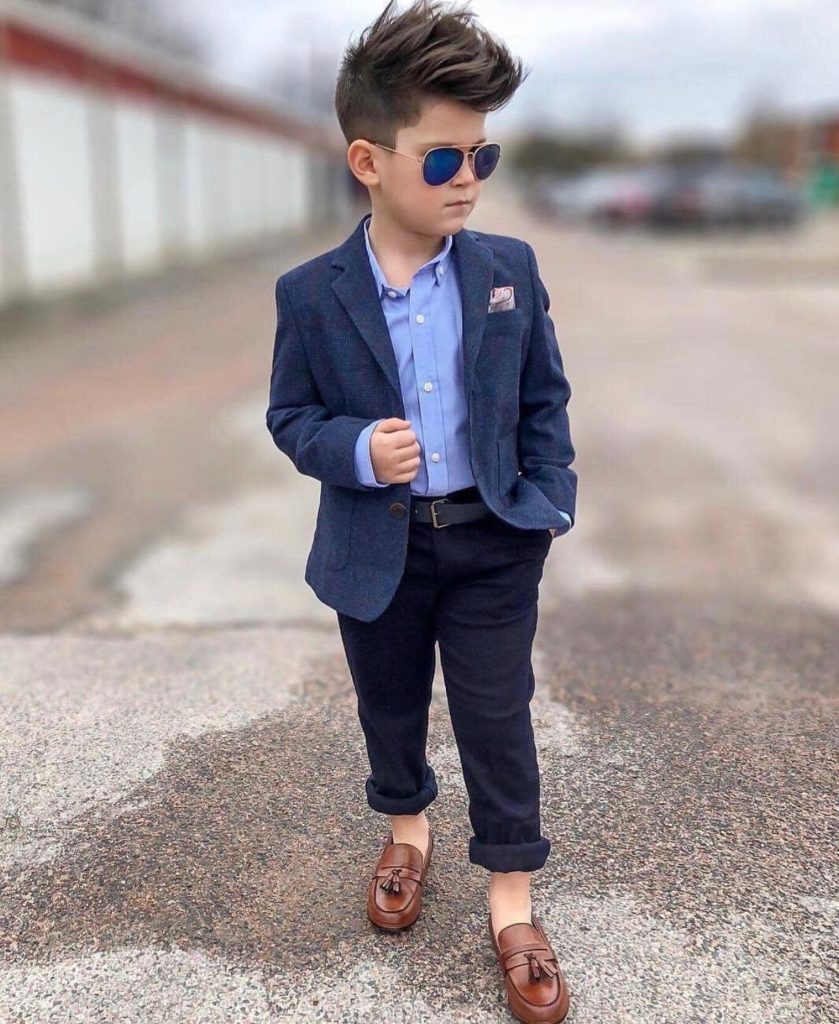 Baby Boys Dressing Ideas
Cowl Style Kurta With Dhoti Pant:
This mandarin neck kurta in royal blue color crafted with Polti buttons and royal brooch with white Rayan dhoti pant is the perfect combo for kids, in the trend now a day. This dressing is a mix of both traditional and latest fashion.
Pathani Suit:
Full sleeved linen Pathani kurta with collard buttons-down yoke and pitch work details with Khussa presents a real traditional look to your kid.
Vast and Short Set:
This is an amazing dressing for little prince and princess in summer. It is more comfortable and soothing. This will keep your kid more ventilated. It is a perfect dressing for those kids who do not hinder while playing.
Sweat Jacket With Shoes:
It is the ultimate fashion of winter in combination with shoes. They are available in multiple colors and patterns. It keeps the neck of your kid warm during frosting season so that it must be an item of your kid's wardrobe.
turtleneck shirt with tight jeans:
A turtleneck shirt protects the neck of your child. it is the test statement of kids fashion industry its also an article of unisex clothing worn from toddlers to adults.
front open T- shirt with shorts:
This is available in beautiful colors, and patterns front opens T-shirt and short in cotton linen are the best dressing for baby boys also easy to put and remove, the material used in making is soft and light so that it is safe also for toddlers. It should be worn with Sandles.
trendy jacket, shirt and bow tie:
This outfit brings out a cool quotient for boys. Nothing is better than a young male child attired in a formal shirt and pant accessorized with an awesome jacket and a spiffy little bow tie and formal check shoes it will never a wrong choice of dressing for your kid.
full sleeve shirt with vast and formal tie:
Many kids don't like to wear jackets because it restricts their movements. But it's a good idea to dress up your kid with a full sleeve shirt in light colors and trousers in dark colors. Your kid now became ready to wear a formal tie and a formal vast with informal shoes it will not constrict the movement of your kid any doubt it's a pretty look outfit.
tuxedo style:
Choose a tuxedo-style outfit for your kid by pairing up it with the formal blazer, sleeveless vast, formal pant, and full sleeve formal shirt if light color. You can also choose a tuxedo-style outfit for your kid by pairing up it with the formal blazer, sleeveless vast, formal pant, and full sleeve formal shirt if light color.
kurta pajama set:
This is a traditional and classical look for all events. To create new outfit kurta pajama can be easily worn with a jacket or vest Kurta pajama can be the best outfit for fancy-dress competition, Independence Day, or maybe in a wedding ceremony, available in different varieties and texture.
ethnic jacket and dhoti set:
Its an Indian traditional dressing but today it became a trendy outfit. This dressing brings out the cuteness factor of kids it will give an amazing look if paired with Kolhapuri chappals ethnic jackets are available in simple or beautifully embellished patterns. Its an Indian traditional dressing but today it became a trendy outfit. This dressing bring out the cuteness factor of kids. It will give an amazing look if paired with kolhapuri chappals ethnic jackets are available in simple or beautifully embellished patterns.
Author's Insights:
Whenever, dress up your kids must keep in mind that today's kids are more vocal about their choice. They are very conscious to wear right type. Must pick right dressing for your kids because it is an art choosing dress for kids, adults, and toddlers is not a walk-in park it demands skills. Also, it reflects your love for your family. One more thing for kid's wear, COMFORT IS ULTIMATE LUXURY.
If you're a fashion lover than don't forget to check out our article about, 36 Strange Fashions Trends Throughout the World.