Top 5 Sports Cars in the world
It was a difficult decision to put some of the amazing cars at the top and rank them as top 5 sports cars in the world. Honestly, we can't imagine ignoring the rest but we have tried our best to put some of the best cars together that will blow your mind with their Speed, Reliability, Safety installs and above all the appearance of these cars will certainly make you look back at it. Without wasting time lets get to it, Right away.
Note: The purpose of this post is not to criticize and lumpen any of the sport cars but to provide the audience about the clear picture.
Ranking #01 to #05 | Top 5 Sports Cars in the world
#01 Dodge SRT Demon- Starting at $ 84,995
SRT Demon is the production model of Dodge that was first introduced in 2018. The Dodge Demon SRT Challenger 2018 was made for the drift racing. The has engine so powerful that front portion is lift in the air when you shift to racing mode. Dodge demon is not just a simple car, its a beast that is made for the drivers for extreme racing style. For the first time, the drag wheels are put on the production model and when it warms up for the drag racing the horsepower is so intense it made the rubber of tyre literally dripping of the skin.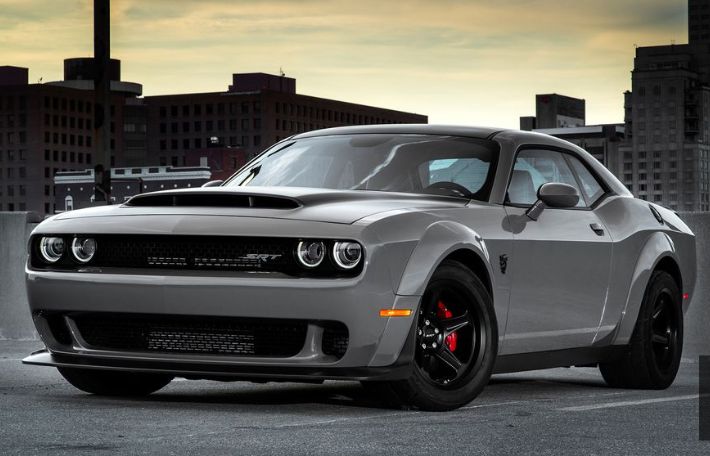 Key Features of Demon SRT 2018
Engine Type
Demon SRT is equipped with legendary 6.2 liters 8 Cylinder
Engine and 8-speed automatic Transmission system.
Fuel Economy
Dodge Challenger gives mileage of 16 city/22 Hwy.
Max. Torque
717 LB-FT (972 NM) at 4500 rpm.
High Speed
Demon SRT 2018 has high speed 170 mph and
picks 0-60 mph in just 2.28 s.
Horsepower
and Weight
SRT Demon has horsepower of 808 hp at 6300 rpm
with 4280 lb of total weight.
Dodge SRT Demon 2018 has a complete racing form from its outer elegant design to its inner comfortable seating and kinetic body lines, it gives the racer best driving experience and the rivals a cold chill of victory.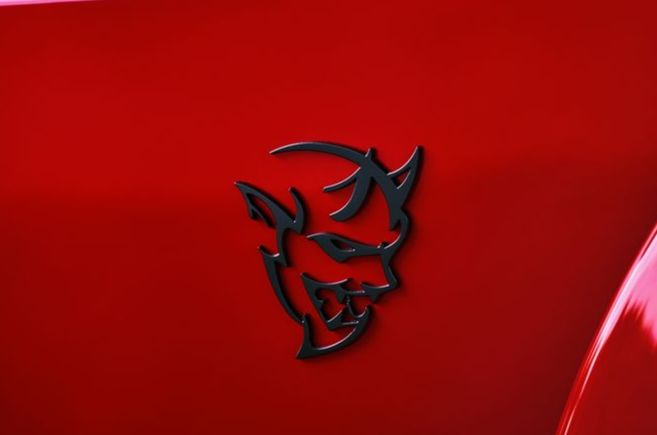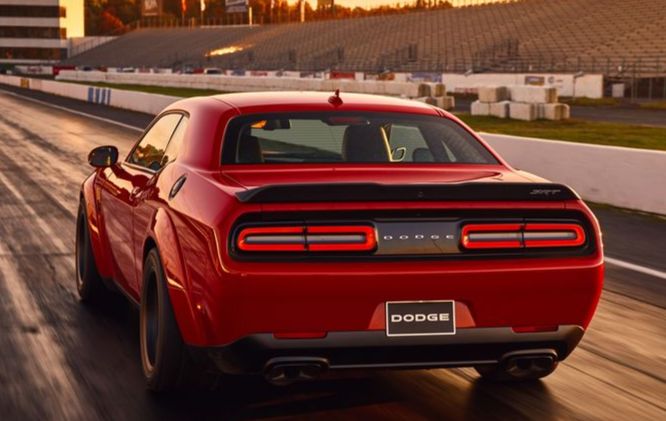 The beast is about to unleash, Dodge Demon has a absolute new design of engine with a dedicated cooling system that keeps the engine from overheating even at top speed of 170 mph. For more on Demon SRT 2018 watch the following video,
#02 Hennessey Venom F5- Starting at $ 1,600,000

Venom F5 is the production model of Hennessey automobile manufacturing company funded by John Hennessey. The car was introduced for the first time in 2017 SEMA auto-show held in Las Vegas, Nevada. It is considered to be as the fastest racing car produced till yet with the top speed of 301 mph (theoretically) and equipped with most powerful engine named as "Fury" capable of generating more than 1800 hp.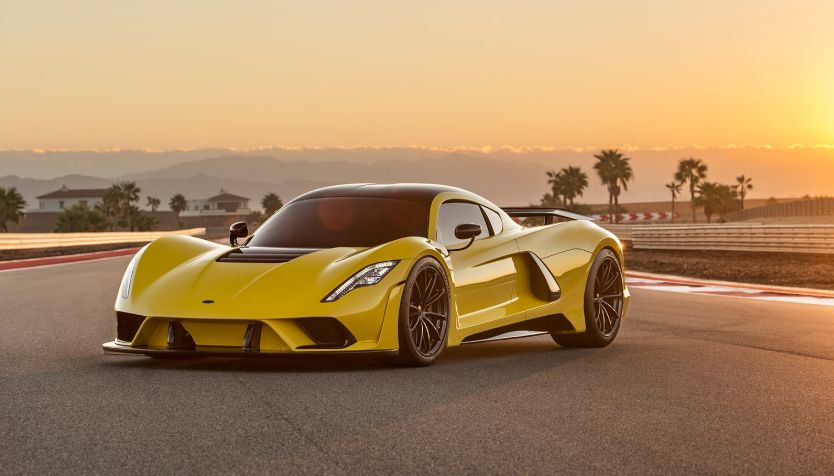 Key Features of Hennessey Venom F5
Engine Type
Venom F5 is equipped with 7.4-liter Twincharged V8
Fury Engine and 7-Speed Single-clutch semi-automatic
Transmission system.
Fuel Economy
F5 gives mileage of 14 city/20 Hwy.
Max. Torque
1193 LB-FT (1618 NM) at 5500 rpm.
High Speed
Venom F5 has high speed 301 mph in 10 s and
picks 0-60 mph in less than 2 seconds.
Horsepower
and Weight
Hennessey Venom F5 has horsepower of 1817 hp
at 8000 rpm with 2950 lb of total weight.
Venom F5 is considered to be the complete sports car since it has all the latest specs installed and especially the Fury engine makes it unique because it is based on the classic American V8 Engine that has a unique racing sound which is mesmerizing to ears when it unleashes its full power.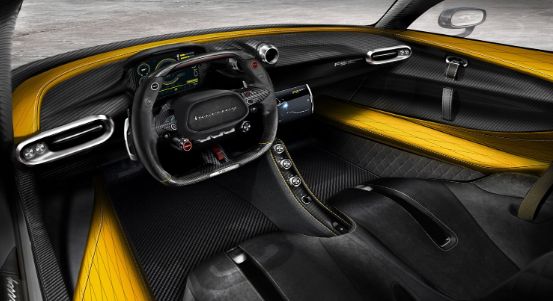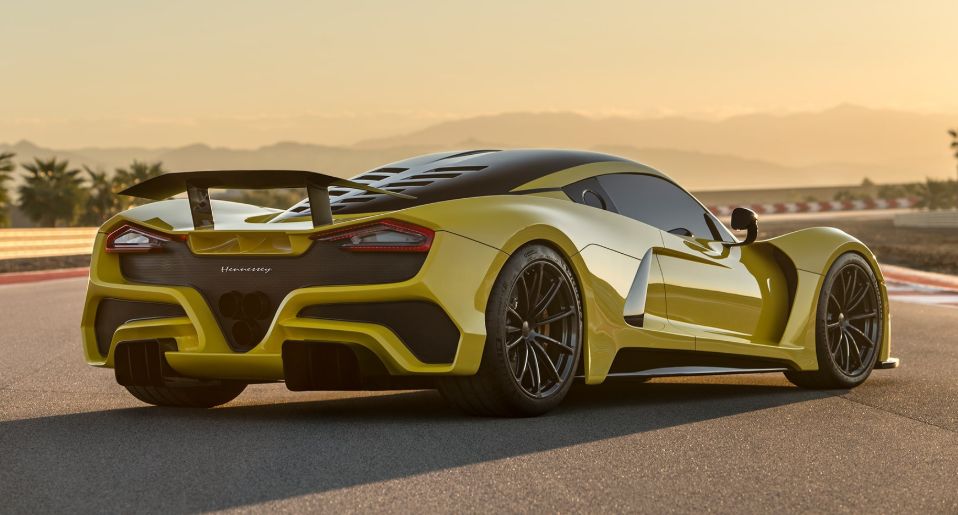 Fury Engine is a very important milestone in the building of our all new Venom F5

John Hennessey
With over 1800 hp and a curb weight of less than 3000 lb, The Venom F5 is the best sports car available in the market.
#03 McLaren P1 2014- Starting at $ 1,109,757
P1 is the production model of British Automobile company McLaren Automotive. The car was first debuted in 2012 in the Motor Show held in Paris. McLaren Automotive is famous for its unique and elegant design of sports cars, especially the McLaren series in giving always a fresh experience of racing since its first release of McLaren F1 in 1993. P1 is considered as the spiritual successor of F1 and will provide you the same experience but in modern style.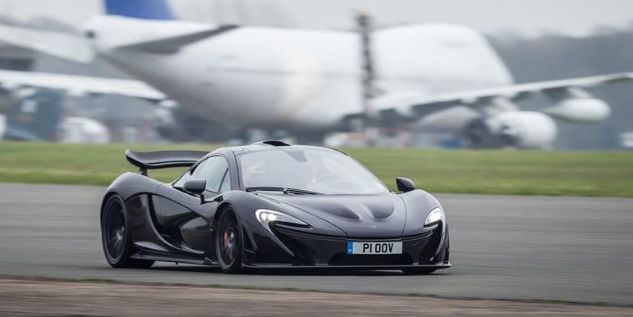 Key Features of McLaren P1 2014
Engine Type
P1 has 12C's 3.8- liter forced induction V-8 Twin Turbochargers
Engine and 7-speed dual-clutch transmission system.
Fuel Economy
McLaren P1 gives mileage of 19 city/24 Hwy.
Max. Torque
664 LB-FT (900 NM) at 4000 rpm.
High Speed
P1 has high speed 217 mph and
picks 0-62 mph in less than 2.8 s.
Horsepower
and Weight
McLaren P1 has horsepower of 903 hp
at 7300 rpm with 3075 lb of total weight.
The numbers behind the McLaren P1 are astonishing but P1 is not a car that can be reduced to statistics. It was created to be driven, to deliver extreme performance on road and on track, to be fast, safe and supremely rewarding. The team that created it pushed boundaries and rewrote rules, and the result is a car that puts its driver at the heart of a dynamic experience like no other car. McLaren marked it name in the racing world by delivering a perfectly balance driving experience with driver oriented control panel and the driver will be coddled in the Alcantara-clad carbon fiber seats.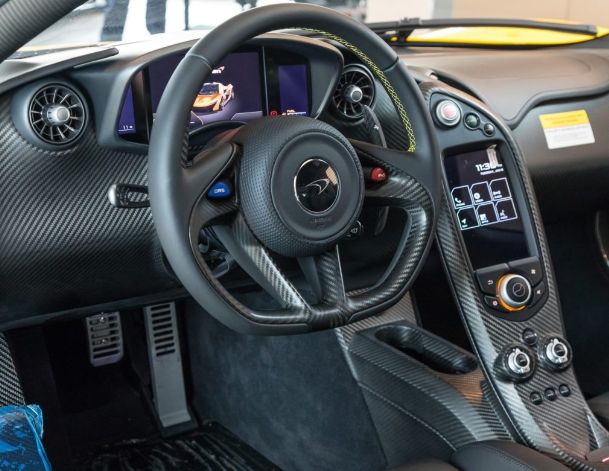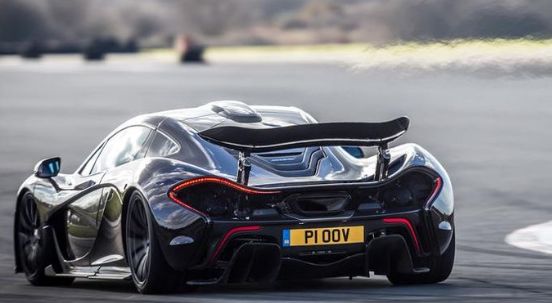 Setting out to build a car that gives the driver a perfect driving experience is nothing short of a momentous challenge, even for a company like McLaren Automotive steeped in racing heritage and technical expertise.
#04 Chevrolet Corvette ZR-1- Starting at $123,000
Corvette ZR1 has returned in the game to take the corvette series to its peak point. It's a car, a little bit of correction here, It's a super-car that is luxurious and overwhelmingly capable of delivering the fastest experience, most powerful and most advanced performance in the corvette series up to the date.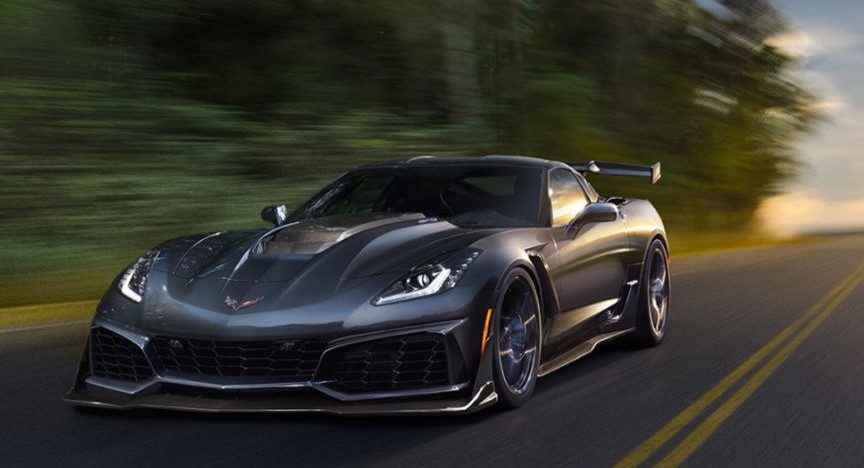 Key Features of Corvette ZR-1
Engine Type
Chevrolet ZR-1 is equipped with 6.2- liter V-8
Direct Injection Engine and 7-speed Manual
transmission system.
Fuel Economy
Corvette ZR-1 gives mileage of 13 city/19 Hwy.
Max. Torque
715 LB-FT (969 NM) at 3600 rpm.
High Speed
ZR-1 has high speed 212 mph and
picks 0-60 mph in less than 2.85 s.
Horsepower
and Weight
Corvette ZR-1 has horsepower of 755 hp
at 6400 rpm with 3560 lb of total weight.
Corvette ZR-1 is also quipped with the latest four-mode exhaust system that provides a wide range of sound profiles. The driver can either switch to Track, Tour, Sport and famous Stealth mode. Using variable valves the exhaust system can create either a thunderous performance or an unbelievably smooth ride mode. So it's up to the driver whether to announce your presence or fly under the radar.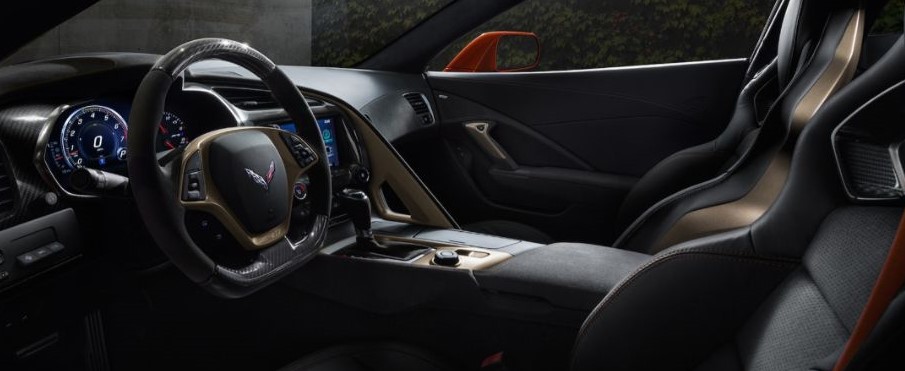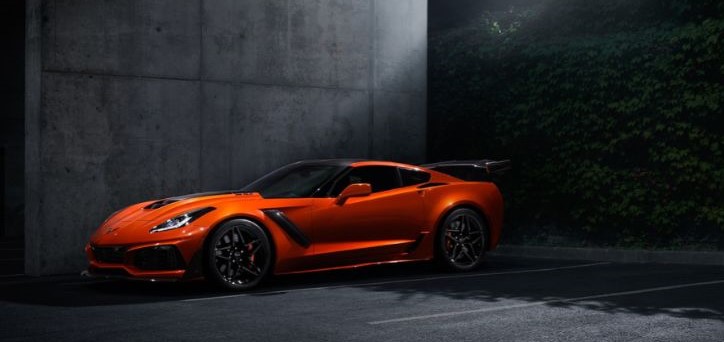 ZR-1 is equipped with the technology born with the Corvette program but it has been modified ever since and engineered through extensive testing. It allows the super-car ZR-1 to channel it strength with precision and poise.
#05 Bugatti Chiron- Starting at $ 2,998,000
The Chiron 2019 is the fastest super-car in production history Bugatti. Chiron 2019 is truly a masterpiece of art, The perfect fusion of modern technology, elegant design and iconic performance oriented model. The result is a unique creation of breathtaking super-car.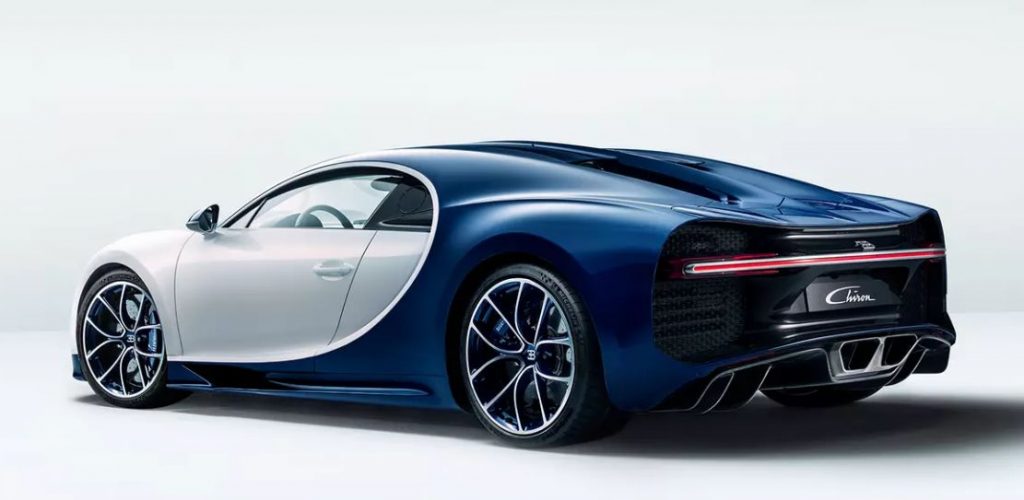 Key Features of Bugatti Chiron 2019
Engine Type
Bugatti Chiron is equipped with 8.0- liter W16
(16 Cylinders) Engine and 7-speed Automatic
transmission system.
Fuel Economy
Chiron 2019 gives mileage of 9 city/14 Hwy.
Max. Torque
1180 LB-FT (1600 NM) at 6000 rpm.
High Speed
Bugatti Chiron 2019 has high speed 304 mph and
picks 0-60 mph in 2.5 s.
Horsepower
and Weight
Chiron 2019 has horsepower of 1500 hp
at 6700 rpm with 4398 lb of total weight.
Style of Bugatti Chiron is based on the Classic Bugatti's look and the exterior boasts the trademark shape and sleek lines. The round and bullet-like exterior profile gives the body the pathway of perfect kinetic body-lines that helps the car in achieving its super-speed. The interior is also a perfect fusion of historical architecture and modern technology.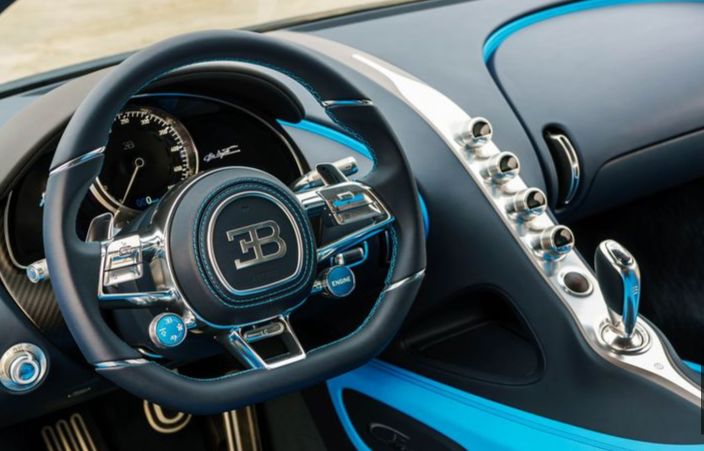 Each production piece of Bugatti Chiron 2019 is an exquisite masterpiece of breathtaking power and ultimate beauty. The Bugatti Designers collaborate with the buyer to create a car of personal liking that fits the buyer's personality, while matching the brand's captivating legend status. There are virtually no limits to the levels of personalisation that can be achieved.
These were some of best and Fastest racing cars of recent years and some of them are still able to maintain their level of beauty and level of racing. Lets us know, which of these you like the most. Pick your ride and get set go!
If you want to know about the Future of Car technology and from future we mean the era of Driver-less cars than click on, Self Driving cars.